Creating a home recording studio
With music recording equipment so easily available and accessible to the masses there has been a rise in the number of people recording from home, either professionally or as a hobby.  The barriers have come down and there is no longer the need to pay thousands to book out studio time just to record your music.  For example, artists such as James Blake have recorded the majority of their work from the comfort of their own bedroom.  However, in order to be able to record from home, there a number of things you need in place to ensure that you can create or record the best music possible.  This article will share with you the 5 essentials for creating a great home recording studio.
#1 A Great Environment
Ok, so your recording studio is unlikely to look like the one in the picture above, but it is nice to dream!
The recording studio environment is often overlooked, but the environment in which you record is arguably the most important element of creating a great home recording studio.  There is a reason why the studio in the picture above looks so beautiful.  Recording artists need to feel comfortable and inspired when recording, not only to increase their creativity, but to get a great performance to record.  The sample applies to you too.  If you want to produce your best work, you need to be in a place where you feel comfortable and inspired.
The recording environment is also vital because of sound.  The type of environment you have as your studio might depend on the type of sounds you want to capture.  However, generally speaking having a good, acoustically treated room will give you a good basis from which to work from.  It will enable you to record your instruments cleanly, giving you the option of adding ambience to your recordings later, via a reverb effect for example.  Check out this great Sound On Sound article about adding acoustic treatment to your recording environment.
Conclusion
So choosing the right environment is a vital part of setting up your own home recording studio.  If it has to be your bedroom, make sure you do your best to set it up in a way that enables you to be the most creative you can be.  Also do your best to give it the best acoustic treatment possible.
Some inspiration…
Before we move on to the next section, take a look at some of the great recording studios for some inspiration.
#2 A Good Computer (and DAW)
The software in the image above is Pro Tools, one of the many Digital Audio Workstations on the market, and one of the most widely used.
Choosing your computer
I am going to make an assumption that you will be recording onto a computer and not to analogue tape!  A good computer and a Digital Audio Workstation (DAW) are essential.  The key thing to ensure is whatever type of computer you are using, make sure that it has got as much RAM in it as possible and that is has a very good processor.  When you are recording and mixing big session you do not want to have to worry about your computer freezing or overloading.  You will also want to reduce latency where possible.  Latency is essentially the time is takes for the analogue signal you are recording to be converted to digital and be recorded into your computer.  Reducing that to a minimum is vital and having a powerful computer is something that can help ensure that it is not an issue.
My top computer pick
Apple Mac Pro
3.7 GHz Quad-Core Intel Xeon E5 Processor

12 GB 1866 MHz DDR3 ECC Memory

256GB PCIe-based Flash Storage

Dual AMD FirePro D300 with 2GB GDDR5 VRAM each
If money is no object.  This is my ultimate choice of computer for home recording.  The Apple Mac Pro will provide you with all the power and storage space to run big recording sessions.  Find out more about it here.
Choosing your Digital Audio Workstation (DAW)
With regard to the DAW, the main thing you need to ensure if that you feel comfortable using it.  You need to ensure that it is a piece of software that will help you get the best from your recording sessions and your mixes.
Logic and Pro Tools are widely used and are generally considered the go to DAWs and for good reason.  They offer a lot of functionality, are easy to use and have a wide range of plugins and soft synths.  However, Cubase, Sonar, Reason are all great options too.  In my opinion when choosing a DAW, the most important things to look for are ease of use and compatibility with a wide variety of plug-ins, likes EQs, Compressors and Reverbs.  Here's a very brief run down of a couple of the most popular DAWs.
Logic Pro X
Logic Pro X is now download only and can be purchased on the Apple App Store for the very reasonable price of $199.99 or £149.99.  It is easy to use for both recording and mixing, offering a wide range of functionality and plugins.  Logic is has hundreds of preset soft synths, from pianos to drums, and really is a great tool if you want to add extra sounds into your mix.  It is also offers voice pitch correction and a tool to edit your drums so they are in time.
Pro Tools
Pro Tools is a more expensive option than Logic, although it can now be purchased via a subscription model.  It has such a wide range of features it will be difficult to list them all here.  However, it has a good selection of soft synths, drum samples and plug-ins.  Pro Tools also has a feature called Elastic Time, which enables you to change the pitch or time of a recording, meaning you can touch up and improve recordings at the mix stage.
Conclusion
Ultimatley, the choice is yours.  You can use whatever type of computer or DAW you feel like, as long as you like using it and that it enables you to be creative.  As mentioned before, ensure your computer has as much RAM as possible.  It is also worth just looking at the extra features that a DAW gives you.  If you are on a bit of a budget, getting a good range of plug-ins and soft synths as part of the DAW can be very useful as it can enable you to create a rich instrumental recording without paying extra for sample packs.
Some inspiration…
Once you have got your computer sorted out you will be well on your way to creating a home recording studio.  Before you decide which DAW to work with, here is a really good overview of 10 available DAWs on the market.
#3 A Good Audio Interface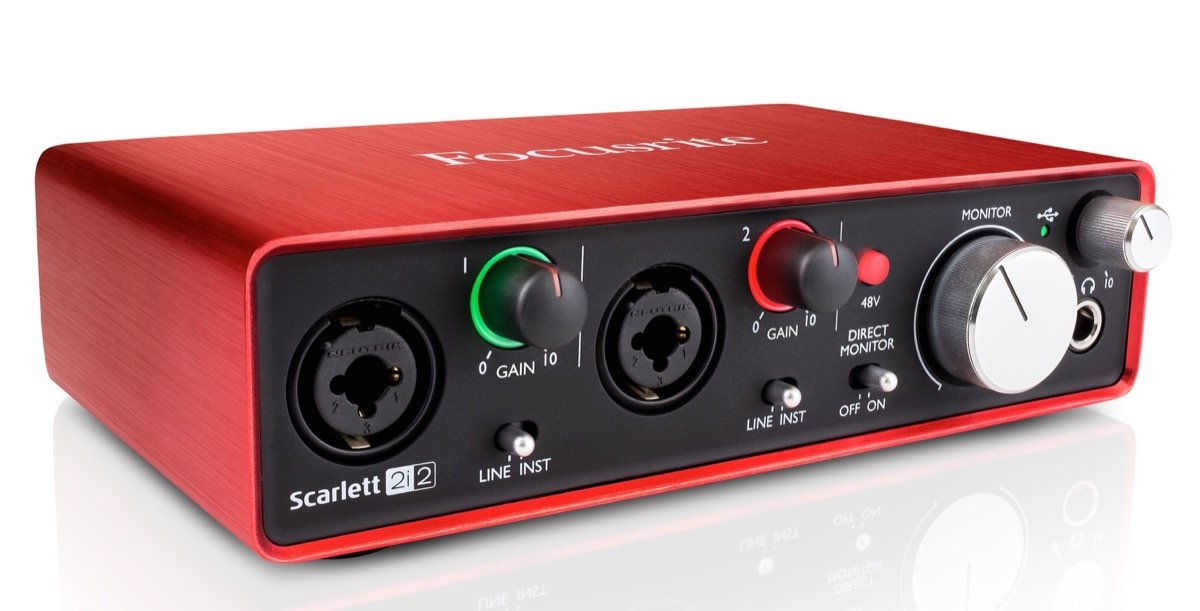 When creating a home recording studio you will definitely need something that will enable you to record! The Audio Interface is the thing which allows you to hook your computer up to speakers and allows you to record instruments or vocals into your computer.  They turn the analogue signal into a digital signal, meaning it records onto your computer…so pretty important.  There are loads in the market so choosing the right one is important.  What you buy also depends on your budget.  There are a lot of options out there and you can spend thousands on one if you wished to.  However, although the more expensive ones are generally better, you can get some great audio interfaces for just a few hundred dollars.  If you are on a budget, check out my article on the Best Audio Interfaces under $200 for an idea of what you can get at the lower end of the market.
The best audio interfaces
Best Audio Interface above $1000
Universal Audio Apollo 8
This Item Includes: Universal Audio Apollo 8p Thunderbolt 2 Audio Interface with Real-Time UAD Processing – External Power Supply – AC Power Cable (IEC) – Set of (4) Rack-Mount Screws – Getting Started URL Card – Universal Audio 1 Year Parts and Labor Warranty

Microphone Inputs: 8

Impedance Instrument I/P: 2

Analog Line Inputs: 8

Analog Line Outputs: 6 (eight including monitor outputs)
Best Audio Interface under $1000
RME Fireface UC Hi-Performance
Sample rates up to 192kHz on all I/Os (including 2 ADAT channels with SMUX4)Two digitally controlled mic preamps in high-end quality

Enhanced standalone operation with rotary encoder and front panel displayTotal

Integrated DSP mixer Analog I/O Digital I/O Steady Clock for maximum jitter suppression and clock refresh

Two balanced universal inputs for line and instrument signals with a digitally controlled input stage,

Individually switchable 48V phantom power, and Neutrik Combo connectors for XLR and TRS
Best Audio Interface under $500

Focusrite Scarlett 18i8
Eight analog inputs: four natural-sounding Scarlett mic preamps with plenty of even gain; two newly-designed instrument inputs, with increased headroom

Class-leading conversion and sample rates up to 192kHz / 24 bit; super-low latency for using your plug-ins in real time without the need for DSP (measured at 2.74ms, working at 96kHz with a 32 samples buffer)

Six 1/4-inch balanced jack outputs; two discrete headphones output with dedicated gain controls; MIDI I/O; S/PDIF in and out; ADAT input (expand up to eight additional inputs)
Some inspiration
Check out my article on the Best Audio Interfaces under $200 for an idea of what you can get at the lower end of the market.
#4 A Quality Studio Microphone
Another key component to creating a home recording studio is the microphone.  It is likely that you won't be able to buy specific microphones for every job you need, be it recording vocals, acoustic guitar, piano, violin or drums.  So you will need one, maybe two microphones that will do every job really well.
In my opinion, the ultimate studio microphone is the Neumann U87.  A stalwart studio classic, that can record vocals, acoustic, piano and more instruments beautifully.  But it is quite expensive, so it is generally not an option for your average home studio.
Check out Sound on Sounds great article on choosing the right microphone to help you understand what the best microphone might be for you.
However, before we move onto the next section, there are a couple of key things to remember when choosing your microphone.
What is your budget?
It seems like an obvious point to make, but your budget will determine your choice.  If you have a big budget then you can feasibly go out and buy the relevant microphones for drums, electric guitars, acoustic instruments and vocals.  If you have a small budget then you will probably only be able to buy one, maybe two microphones that will have to serve all your recordings needs.  That means you will need to buy a microphone that is good at recording a variety of different instruments.  A great example of a microphone that can do that job is the AKG C214.
What are the main instruments that you will recording?
Again, it seems like an obvious question, but if you are likely to be recording drums for the majority of the time, you will need a very different microphone to what you might need if you are recording vocals most of the time.
Check out ehomerecordingstudio.com's great article running your through 7 great vocal mic options for more information.  Take a look at their articles on acoustic guitars, electric guitars and drums for good measure!
Best Microphone for under $500
AKG C214
Polar pattern: Cardioid
Frequency response: 20 Hz to 20 kHz
Max SPL: 136 dB/156 dB
Signal-to-noise: 81 dB
Other notes: Includes 20dB pad and roll-off switch. Comes with shock mount, foam windscreen, and metal case
Living off the fame of the infamous studio microphone, the AKG C414, the AKG C214 is an affordable option that gets you a similar sound at a much lower price point.
This is a great option for an all round microphone at an affordable price.  It will be able to capture a rich and smooth vocal performance as well as a crisp and clear acoustic guitar.  If needs be it will also do a good job as an overhead microphone for a drum kit.  It's a great all round option and arguably the best studio microphone available for under $500.
It's cardioid only and single diaphragm, so go no further if you're looking for professional, clear and bright sounding microphone without breaking the bank.
Some inspiration
Now you are well on your way to creating a home recording studio.  Check out my article on the Best Microphones for under $500 to give you an idea of what you can buy for a reasonable amount of money.
#5 Good Monitors or Headphones
Lastly you will need some speakers (or monitors…they're the same thing!) in order to hear what you are recording or mixing.  These are an all important part of creating a home recording studio for obvious reasons!  However, if you live in shared accommodation or a block of flats and noise spill is more of an issue, you will need some great headphones instead.
The key to a good set of speakers is to know what they sound like, not how good they sound.  What I mean by this is that ultimately the speakers are there to reference your mix, so if you have a rubbish set that cost about $100, that's fine, as long as you know what a good mix sounds like in them.  The same applies for headphones too.
Choosing the right pair of headphones can also be difficult, especially as there is so much choice available to us.  My opinion is that for recording and mixing the best option is to get a pair of on-ear headphones by manufacturers such as Sennheiser or Audio Technica.  They are well known for making well built and great sounding headphones for recording and mixing.
Some inspiration
Checkout my best over ear headphones guide to help you get an idea of what is out there to buy!